This is a contributing guest blog post from Natalie Bui, the lead researcher and evaluator for the Classy Awards.
The Classy Awards recognizes excellence in social innovation through a year-long process of research and evaluation of thousands of organizations. While all organizations are encouraged to apply, the Classy Awards team and I ensure excellence through this process and also invite a select amount of prospected organizations to apply.
There are several things I look for in an organization before inviting them to apply for a Classy Award, and one area I evaluate on is the information that I find on your nonprofit's website. This is the most critical opportunity for your organization to showcase the excellent work you've done by showing me your understanding of the problem, the strategy being implemented, and the impact being made.
When this information is displayed correctly, I am better able to understand how innovative, transparent, and impact-driven you are. These are themes our sector is constantly talking about but also key things progressive funders are increasingly looking for an organization to exemplify. In order for an organization to stand out, not only to me but to potential donors, impact investors, and future supporters, there are five elements that your nonprofit website should have.
1. A Clearly Defined Problem
Having a clearly defined problem shows me that you've done your research. Most of the time, problem metrics are displayed on the global scale which can be overwhelming and seemingly impossible to solve. I want to see the problem on a focused level where I can easily comprehend and grasp it.
For example, Opportunity Nation is a nonprofit working to advance legislation to address the opportunity gap. They have developed the Opportunity Index, an annual composite measure at the state level to include the specific contributing factors that exacerbate the opportunity gap.
2. A Breakdown of Your Program
Within your strategy, a breakdown of your program model is helpful in showing me exactly how you plan to achieve your mission. It provides more context to the specific activities and exact processes that are required to make the necessary change happen. The more in depth you can go into the core elements of your model, the better.
For example, Welcoming America's mission is to build a different kind of community—one that embraces immigrants and fosters opportunities. When they break down their model into three separate components they tell me what building a community actually entails and how they intend on doing so.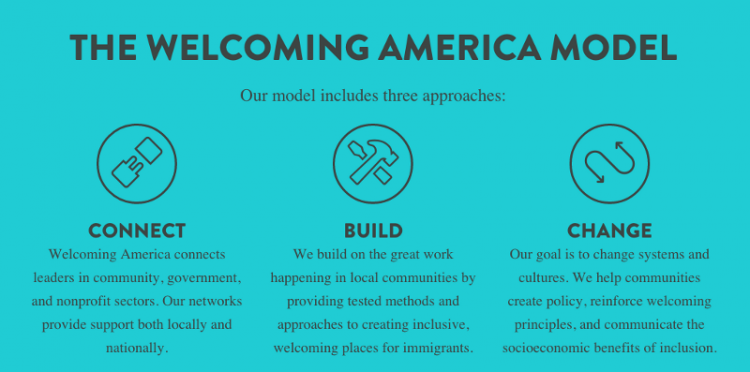 3. A Clear Description of Your Differentiators
Having reviewed across hundreds of nonprofit strategy descriptions in previous Classy Award evaluations, I am going to compare your strategy to other industry practices. Providing me a clear description of what makes your strategy unique is crucial to showing me how your innovative strategy is an improvement from current solutions.
I consider whether your organization is implementing a new strategy or an improved strategy based off an existing one. I look for how you have have leveraged unique partnerships or how your strategy is more creative, efficient, and effective than current, existing models.
For example, Blue Engine is a nonprofit that partners with public schools to better prepare students for postsecondary success. They show me they are unique not because they recruit and train teachers to teach in low income communities, but because they provide small group instruction and extended learning time. It provides an alternative to the single instructor and average calendar year school model.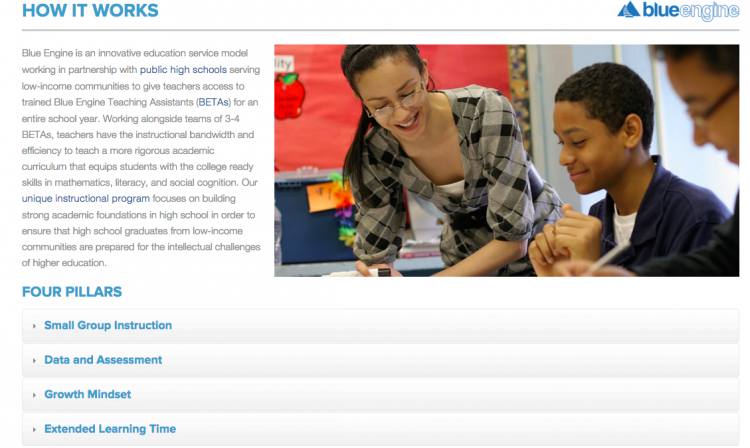 4. Impact That Includes Meaningful Metrics
Key Performance Indicators (KPIs), the metrics used to evaluate the success of your organization, are essential. Even just an indication that you are developing metrics to track your progress shows me that you are committed to tracking your results—and better yet, it illustrates how those results are helping you achieve your long-term goals.
There's a difference between showing impact metrics by the numbers versus impact metrics by their relationship to your long-term goals. Vanity impact numbers do not suffice because they don't provide me with a comprehensive understanding of how your organization is having a real impact on the problem you are addressing. It is important to link your short term outputs back to your long term outcomes because it shows me how your work can produce deep and lasting impact. This information is important to me as an evaluator, as well as a donor that's looking to understand whether your work is worth the investment.
Take a look at Possible Health. They are working to improve the healthcare system in Nepal. Not only do they state the number of clinical services performed on a quarterly basis, but they show how those KPIs trace back into their long-term goals of increasing access to surgery access, equity, and safe births.
5. Concise and Powerful Messaging
When writing website copy, your number one goal should be helping readers quickly grasp what your organization is doing while avoiding buzzwords. This way your model does not come across as a blanket approach to the problem at hand, especially to those who have read through hundreds of grant applications already. By breaking it down into concepts I can grasp, but also going further to explain it, I can quickly internalize how comprehensive your approach is. It is also helpful in keeping potentials, donors, funders, and myself, engaged.
For example, Build works to "Build Entrepreneurship, Build Exploration, and Build Experience." They do a great job of breaking down that high-level terminology into specifics to show what it actually means and entails.
There is an increasing amount of dialogue about innovation, transparency, and impact measurement that the social sector is experiencing. And with an increasing amount of dialogue comes not only an expectation but a demand for nonprofits to deliver on those expectations. More and more progressive donors, funders, and supporters are frequently looking for a display of this type of information.
If correctly articulated, I strongly believe that the five key points above help display not only the capabilities of a Classy Award Finalist, but a leader in the sector as well. By clearly and openly talking about your organization's problem, strategy, operations, results, and growth on your nonprofit website, you demonstrate your organization's ability to be more innovative, transparent, and impact driven. It will shape the way progressive donors view you and show us how you are best suited to further influence that dialogue in which the sector needs. And it will help me better assess your qualification for a Classy Award—one of the most prestigious awards for recognizing excellence in social innovation.
---